Education

Welcome to Hays Education, where we match top talent to the roles that need them most.

Powered by the twin ambitions of nurturing talent and empowering potential, Hays Education combines an extensive network with local expertise, and ultimately seeks to place the right professional in the right job. Our team of 200 specialist consultants work with over 4,000 nurseries, schools, MATs and colleges across the UK, operating exclusively with over 1,000 of these.
To speak to one of our experts, do not hesitate to contact your nearest office today. We have offices across the UK in 32 locations, including London, Manchester, Birmingham, Leicester, Bristol, Liverpool and Leeds.
JOBSEEKERS
The managed campaigns we run for schools and trusts – for NQTs through to school leadership roles – ensure we are best placed to secure the right permanent role for you. For those looking for temporary work, we have just launched the Hays app, a mobile app that gives you access to a wealth of free training courses, the ability to browse a range of supply roles, and an easy way to let us know when you're available.
EMPLOYERS
Our geographical reach and detailed database allows our consultants to search over 400,000 education professionals, ensuring we're perfectly placed to match the right candidates to your vacancies, whilst our dedicated Hays Leadership team deliver successful recruitment campaigns at all levels of education leadership. Not only this, but our Hays Hub platform enables you to tap into a vast pool of fully-vetted supply staff and provides a single point of access to all our services – including staff training portal Hays Thrive Education Training and our student learning package Hays Inspire.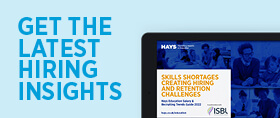 Salary Guide 2022
Download the Education Salary & Recruiting Trends Guide to discover employment, salary and benefits insights from over 2,500 professionals.​​​​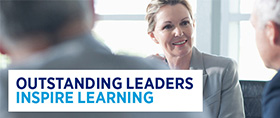 Hays Leadership
Recruiting outstanding leaders is one of the most important decisions for a school but is often one of the most challenging.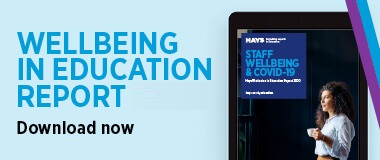 Wellbeing in Education Report
Download our report for insights from almost 800 professionals nationwide.