Content_tech_hays_hack_MainRegion
HAYS HACK


---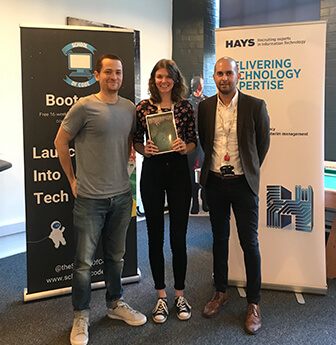 At Hays Digital Technology, we love to get involved with the tech community, and we'd therefore like to thank everyone who participated in the recent Hays Hack to find the best coder across the UK. We had almost 550 entries and are thrilled to announce our national winner of the UK Hays Hack Competition 2018.
UK winner
We'd like to congratulate our first place winner, Leigh White from the Midlands region, who chose an iPad Pro as the winning prize after completing the Hays Hack in record time.
We asked Leigh what made her move into software development and her thoughts on winning the Hays Hack competition:
"After finishing a degree in Maths from Birmingham University I was struggling to see how I could use my skills in a practical environment. I did a coding module in my course and really enjoyed it. I saw an advert for the School of Code which was looking to take a cohort of 20 people onto an intense 16 week training course to teach them JavaScript. The course is sponsored by local businesses and there was a great opportunity to go straight into a development role at the end of it.
I found the 16 week course a steep learning curve, but it was so enjoyable that I was engaging in my own projects outside of the 9- 5 teaching hours. I'm now a year into it and I'd like to see myself in a leadership role in the future - there aren't many female leaders in software development, and I feel it's really important that we have visible female leaders in this industry.
I was in shock when I found out that I had scored 100% in the Hays Hack competition and am really pleased to have won."
We would also like to take this opportunity to congratulate our UK Graduate winner and Professional regional winners.
UK graduate winner
Yorkshire & the North - Gareth Arnold
Professional regional winners
Northern Ireland – Mark Allan
London City – Kishan Chavda
North West – Kieran Venison
East of England - Ruslans Scelkunovs
South East – James Savin
Midlands – Chris Badley
South West – Brandon Greenan
Scotland – Benjamin Bristow
Yorkshire & the North – James Thompson
Wales - Robert Smith
To find out more about our latest developer jobs, click here
Content_multi_find_out_more_RHModule
Find out more
Search for jobs
Find your next career move.
---
Register a job
Search through hundreds of candidates to find your next employee or employees.
---
Employer Services
Explore our key services which will help provide you with an effective talent strategy.
---
Resources
From whitepapers to reports, get the resources you need for all of your recruitment or job searching needs.
---
View our blogs
Take a look at our blog section for further insight and advice.