What are the highest UK marketing job salaries in 2022?
6 min read | Clare Kemsley, Managing Director of Hays Marketing, Retail and Sales, UK&I | Article | Market trends Salary & pay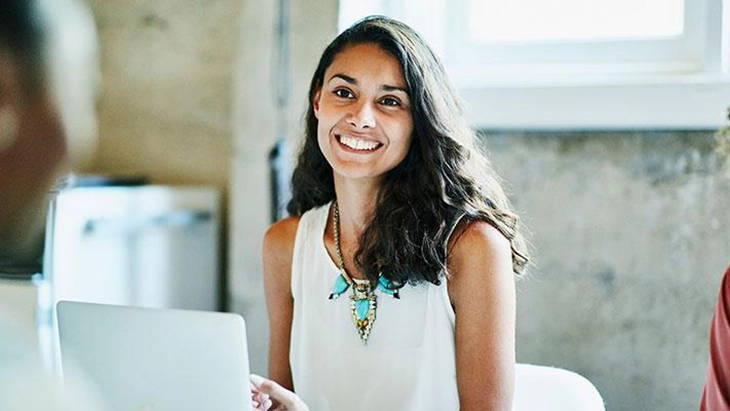 Learn how much marketers earn across the UK in 2022. Clare Kemsley, Managing Director of Hays Marketing, Retail and Sales, UK&I, shares the key UK marketing salary insights from our Hays UK Salary & Recruiting Trends 2022 Guide.
Marketing jobs salaries: Key insights
he last few years have meant a tough time for almost every industry. Marketing was no exception. Many lost their jobs during the crisis, and many companies were forced to close their doors.
But now – as we take steps to recover across all sectors – the future looks bright. In fact, marketing employers, in particular, are buoyant about the economic climate and the opportunities this could bring.
In the Hays Salary & Recruiting Trends 2022 guide, we asked over 800 marketing employers and employees questions about their predictions for the future.
We saw a huge increase in the positive outlook of marketing employers. We also learned which marketing jobs' salaries were the largest and which roles employers were looking for. Read on to learn:
Which marketing roles saw a typical six-figure salary
How much specialists in social media, SEO and events might earn
What the average marketing salary is for ten key roles in the UK in 2022.
Marketing jobs salaries: Background
Despite these positive feelings, we are experiencing skills shortages across many specialist areas – including marketing. In fact, 80% of marketing employers say they have experienced skills shortages in the past year, and 72% are expecting a shortage of suitable candidates over the next 12 months.
The reason behind the lack of skills the sector is experiencing boils down to multiple factors, with the first being slow movement in the jobseeker market. 58% of marketing employees plan to change jobs in the coming 12 months, a slight decrease from last year. That also coincides with increased hiring plans from employers: 81% plan to recruit in the year ahead in comparison to 67% last year.
Other factors to take into consideration are IR35 reforms and Brexit. In fact, 29% of marketing employers believe the UK's departure from the EU has contributed to their difficulties in hiring the right people.
So, which skills are in demand? Which roles bring the highest salaries? And how can you attract the best talent to your roles?
Skills in demand
Due to the issues outlined above, skills shortages have become extensive within marketing. Productivity is one of the largest areas of concern, with 40% of employers reporting that this is the area that has been impacted the most. This is followed by creativity at 36% and innovation at 35%.
The top soft-skills employers need within marketing include:
Communication and interpersonal skills (71%)
The ability to adopt change (56%)
Problem-solving (54%).
Now we know which skills to look out for, let's explore the salaries of various marketing roles.
Top UK marketing salaries in 2022
Marketing employers might try to attract skilled staff by offering higher-than-expected salaries for their vacancies. Marketing salaries rose by 2.1% over the past 12 months, and our research shows that 53% of marketing employers increased their rates of pay.
Listed below are the typical salaries for ten of the most common marketing roles:
1. Digital Director: From £100,000-125,000
2. Marketing Director: From £80,000-125,000
3. Head of Insights: From £60,000-100,000
4. Head of Products: From £60,000-75,000
5. Brand Manager: From £45,000-62,000
6. eCommerce Manager: From £40,000-65,000
7. Marketing Manager: From £40,000-65,000
8. Events Manager: From £35,000-60,000
9. SEO/PPC Manager: From £35,000-60,000
10. Social Media Manager: From £30,000-55,000
Typically, these salaries were higher in London and the southeast. However, their ranges display the average findings from our report, covering some of the major disciplines found within modern marketing departments.
Marketing jobs salaries: Next steps for your business
Although offering salary increases might seem like a logical solution to skills shortages, our research also shows that this is not the only winning factor.
Professionals are increasingly looking to work for organisations that prioritise other things like a strong sense of social responsibility. In fact, 92% of marketing employees say a company's purpose is important when seeking a new role.
So, if you're looking to fill a marketing role, don't just concentrate on salary. Provide a welcoming all-round environment – and give candidates multiple reasons to join you.
Learn about salaries and employment trends in marketing by requesting your free copy of the Hays Salary & Recruiting Trends 2022.
About this author
Clare Kemsley
Over her time at Hays, Clare has developed a detailed understanding of creative and customer focussed industries and the talent they need to succeed. She is a believer that great behaviour drives the culture of the business and allows the customer experience to be of the highest quality.