DIVERSITY, EQUITY AND INCLUSION
With our Diversity, Equity and Inclusion (DE&I) advisory service, your organisation is equipped with the insights and expertise needed to build a more diverse workforce today, and create a more inclusive tomorrow.

DIVERSITY, EQUITY AND INCLUSION
With our Diversity, Equity and Inclusion (DE&I) advisory service, your organisation is equipped with the insights and expertise needed to build a more diverse workforce today, and create a more inclusive tomorrow.
What you need to know about diversity, equity and inclusion
Organisations are failing to create cultures that enable each and every individual to thrive.
A Diversity, Equity and Inclusion solution supports organisations as they embed conscious inclusion into every aspect of the employee lifecycle, creating space for people to succeed.

Together, we'll craft a culture built on trust, respect, equality and inclusivity that will enable us all to live our values, deliver our purpose and achieve ambitions for growth.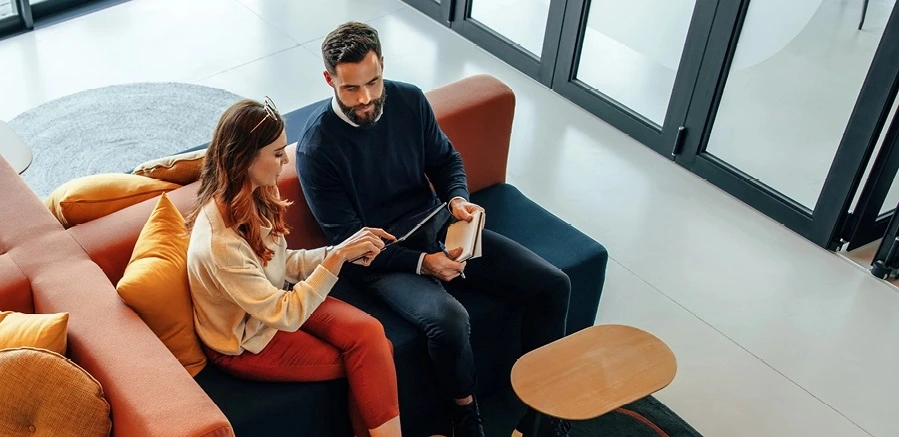 World-class training
We offer the learning and development needed to transform your organisations approach to DE&I. From the C-suite to your Early Careers pipeline, we'll support your workforce as they embrace and adapt to a new, fairer way of working.

A clear promise to our clients
We know that actions speak louder than words. Together, we'll leverage our industry-leading recruitment expertise with our workforce advisory capabilities to shape significant and lasting change to the markets and communities in which your organisation operates.
EXPLORE OUR OTHER ADVISORY SERVICES
HOW DIVERSITY, EQUITY AND INCLUSION
CAN HELP YOUR BUSINESS
Build a competitive edge

Research has shown that organisations that truly embrace and invest in DE&I markedly outperform their peers. Let's turn the diversity of your talent strategy into a source of competitive advantage.

Meet critical skills gaps

Competition for critical skills is fierce. But with a commitment to conscious inclusion, you'll benefit from a broader network of talent. Together, we'll explore the value added by diverse or alternative candidates, incorporating essential expertise into your workforce strategy.

Encourage employee retention

Creating a shared sense of belonging isn't just good for morale – it has a direct impact on your bottom line, with retention rates among diverse workforces 5.4 times higher. Don't risk losing top talent.
DIVERSITY, EQUITY AND INCLUSION
TAILORED TO YOUR BUSINESS
Customer-centric approach: Our services are tailored, not only to your organisation's needs, but also to ensure the engagement of key stakeholders. Our approach is end-to-end, so whilst we may start by shaping your senior management into authentic DE&I leaders, we impact every leader, team member and hiring action.

Data and insight to inform your strategy: Together, we'll make intelligent decisions about your DE&I strategy, driven by a wealth of reliable data. We combine proven processes and project management methodologies, informed and continually refined by the lessons and insights we gain from operating across the globe.

Authenticity is key: We advocate that all engagement and efforts in DE&I should be authentic for them to be well received and ensure long-lasting change. We carry the same belief across our organisation; our experience and expertise come from a track record of improving DE&I with our clients and ourselves.
A SOLUTION FOR EVERY WORKFORCE CHALLENGE
Power your strategic ambitions
Access the knowledge, expertise and innovation you need to shape a holistic workforce strategy.
Scale your access to skills

Circumstances change, priorities shift. Meet every challenge with an agile solution.

Craft a stronger candidate experience

There's a battle for expertise. Are you offering an experience that will ensure you stand out?

Elevate your decision-making

Complex problems require careful consideration. Leverage a wealth of insights to inform your workforce strategy.
DIVERSITY, EQUITY AND INCLUSION FAQs
Diversity focuses on and celebrates the differences between people e.g. gender, background, age or how we think.

Equity refers to fair and just practices and policies that ensure all employees can thrive. However, this is different to equality as it implies treating everyone as if their experiences are the same.

Inclusion is the act of welcoming diversity, creating an environment where everyone can thrive and succeed.
Hays have been partnering with clients to build diversity and inclusion-led workforce strategies for over 20 years.

Driven by a desire to do the right thing, solve skills shortages and empower the workforce of tomorrow, we've evolved over the years to consider DE&I more holistically. We support organisations of all sizes, in a range of sectors, from C-suite level training and strategy development, to executing on those strategies and delivering diverse and inclusive hiring programmes.

We're honoured to have been awarded the National Equality Standard (NES), one of the UK's most rigorous and prestigious accreditations for diversity, equity and inclusion.
Several factors have contributed to increased activity in DE&I. Recent tragedies in LGBTQ+, Black and Asian communities have fuelled growing concern from employees regarding a lack of real action from leaders.

An evolving market and persistent skills shortages are also encouraging organisations to think beyond traditional sourcing and attraction strategies. There is a need to engage the widest possible talent network to meet an ever-growing demand for critical skills, promote innovation and outperform competitors.