DIGITAL SOLUTIONS
Navigate a complex recruitment landscape with our digital solutions. Discover how we can create a competitive advantage with an omnichannel strategy, enhancing access to business-critical skills and expertise.

DIGITAL SOLUTIONS
Navigate a complex recruitment landscape with our digital solutions. Discover how we can create a competitive advantage with an omnichannel strategy, enhancing access to business-critical skills and expertise.
What you need to know about digital solutions
Our digital solutions service is an end-to-end, permanent recruitment methodology that helps you cut through the noise, attracting the brightest talent through employer branded recruitment solutions.

Enhance your employee value proposition and target your desired audiences with a bespoke package of seamless tools and technologies.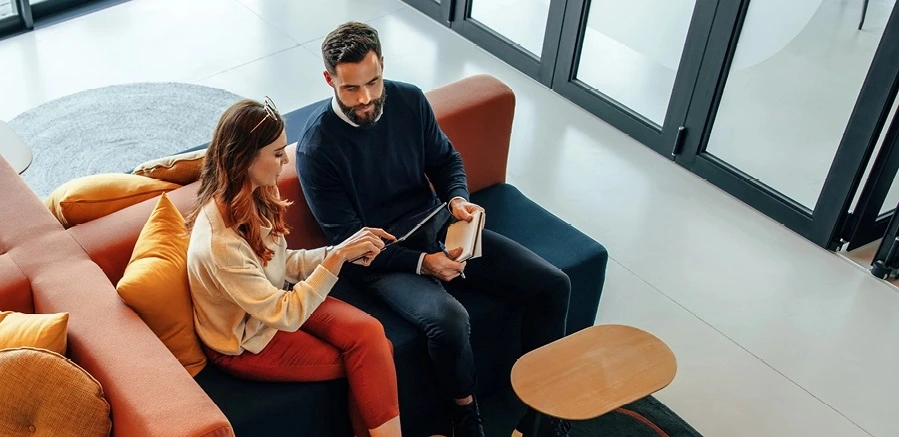 Leading market intelligence
Access up-to-the-minute data and expert insights to better inform and guide your talent acquisition strategies. No matter your organisation's size, industry, or sector, you can leverage our scale and in-depth knowledge to tackle specific market challenges and skills shortages.

Innovative recruitment technology
From bespoke employer-branded career sites to informative reporting, your recruitment campaigns will be supported by a comprehensive suite of technologies and tools – designed to differentiate your organisation in a highly competitive market.
EXPLORE OUR OTHER ADVISORY SERVICES
HOW DIGITAL SOLUTIONS
CAN HELP YOUR BUSINESS
Flexible and responsive

Target an elusive pool of permanent specialists, or meet a high volume of temporary hires. Even with the most demanding objectives, we'll ensure your available positions are seen by the right people at the right time, taking an omnichannel approach to recruitment. And being fully scalable, you can handle multiple job roles with job search functionality.

Stand out in a saturated market

Employer branded advertising will make your campaign stand out amongst the thousands of online jobseekers. Create customised solutions such as bespoke candidate portals to enhance your employee value proposition and leverage top-level job boards for maximum exposure.

Diversify your touchpoints

Our digital solutions team develop a wide range of traffic drivers, providing maximum exposure across various digital channels. We utilise a range of online advertising channels to increase your profile and drive traffic to a dedicated, smartphone and tablet enabled microsite.
DIGITAL SOLUTIONS
TAILORED TO YOUR BUSINESS
No matter your budget or business needs, our digital solutions can be tailored for your industry, and for the volume of talent you need. With our comprehensive choice of packages, we have an effective solution to suit your requirements.

Employer branded multi-channel campaign: Our employer branded multi-channel campaigns combine the breadth of our knowledge, expertise, and networks with your own unique employer brand. We use our full range of tools and channels to attract top talent to apply to your vacancies. The centre piece of which is your own custom built, fully branded career site; this incorporates your brand and reflects your values, ensuring applications are of the highest quality and relevance to you.

Dual branded campaign career site and advertising package: This solution provides a career site that uses your company logo alongside ours and reflects your organisation's core values to promote your roles and deliver a seamless application experience for prospective candidates. You'll also benefit from targeted job board advertising on specialist sites to ensure we engage the widest, most diverse talent pool for your role.

Branded advertising package: Using our extensive recruitment knowledge and experience, we will build a bespoke online job board advertising package to promote and target your roles to the right professionals. You'll also receive insights from data, statistics and metrics on the effectiveness and results of our advertising solutions.

Premium job posting: Upgrade your job listing to Premium and put your job advert at the top of the list for prospective candidates. Our sponsored job solutions ensures that your job advert, featuring your logo, is first to appear to the most relevant applicants that visit the Hays website.
A SOLUTION FOR EVERY WORKFORCE CHALLENGE
Find the people you need
People power progress. Let's source the skills you need to evolve.
Optimise your recruitment process

Smarter. Faster. More agile. Discover what's possible with a workforce solutions partner.

Craft a stronger candidate experience

There's a battle for expertise. Are you offering an experience that will ensure you stand out?

Gain visibility across your workforce

Complete clarity. Better business decisions. Let's keep things simple with our solutions.
We have the technology, scale, and expertise to provide up to the minute market data and insights, helping us attract candidates beyond the reach of most employers.

From software developers to project managers, we'll overcome skill shortages and attract elusive candidate groups you won't find anywhere else.
Through the diversification of our recruitment channels, broad range of partnerships, and expansive network of candidates, we're able to offer you greater choice when hiring talent – even when doing so at scale. We can also offer you expert consultancy to enhance the fairness and diversity of your recruitment campaigns.
Part of what defines our digital solutions service is its ability to fully align with your organisation's identify and cultural values. From branding to tone of voice, our digital solutions service is fully differentiated, able to adapt to your industry position.