Content_AF_kaplan_training_MainRegion
Kaplan Training

Aim higher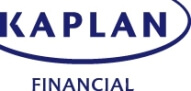 As experts in the finance market, we understand the demands of this busy and challenging environment and the importance of gaining industry specific professional qualifications. Which is why we're pleased to offer our clients a 15% discount on Kaplan finance training courses for every candidate you recruit via Hays.


---
Government Funding
Kaplan also has government funding available for all ages under the apprenticeship scheme. This covers the AAT, ATT, CIMA Certificate and ICAEW CFAB qualifications and could result in the cost of the tuition course being fully covered. Please enquire for eligibility criteria and further information.
Available courses
Here is a list of courses available to help you take your professional development to the next level.
Please note the pricing information outlined below is example pricing based on Southampton Kaplan Training Centre for 2016. Prices may vary throughout the UK.
---
AAT
This is a good starting place if you want to begin your career in accounting as you don't need any prior experience or knowledge. The Association of Accounting Technicians (AAT) is the UK's leading qualification body for accountancy professionals.
---
ACCA
The Association of Chartered Certified Accountants (ACCA) qualification provides a route into a career in accounting, audit, business or finance. You will gain a comprehensive understanding of the knowledge, skills and techniques required by the modern accountant.
---
ACA (ICAEW)
The ACA qualification from the Institute of Chartered Accountants in England and Wales (ICAEW) provides opportunities across a variety of large and small businesses in a wide range of industry sectors. From launching a new business to understanding the core of an organisation, chartered accountants are involved in every aspect of ensuring business and financial success.
---
ATT
The Association of Taxation Technicians (ATT) qualification paves the way for a successful career in taxation; study ATT and gain knowledge in a specialist area of tax. The qualification will enable you to carry out tax services for large and small businesses, industry or the public sector.
---
CIMA
The Chartered Institute of Management Accountants (CIMA) qualification prepares people for a career in business, combining accounting, finance and management with the leading techniques needed to drive successful organisations. CIMA is the world's largest and leading professional body of Management Accountants.
---
CTA
The CTA qualification paves the way for a successful career in taxation, and will give expert knowledge in a specialist area of tax.
---
CFAB (ICAEW)
The Certificate in Finance, Accounting and Business (CFAB) is awarded by the ICAEW. The qualification is made up of six papers taken from the Knowledge Module of the ICAEW's ACA qualification.
Find out more
---
Bookkeeping
Kaplan offers a range of Bookkeeping courses for those wanting to improve their knowledge of the mechanics of accounting. We offer a range of short courses can be completed within a week, or self-study courses that can be completed entirely in your own time.
---
ICB
The Institute of Certified Bookkeepers (ICB) is a recognised qualification and perfect for those wanting to improve their knowledge of the mechanics of accounting.
---
CIPFA
The Chartered Institute of Public Finance and Accountancy (CIPFA) is the world's only professional accountancy body to specialise in public services, making the CIPFA qualification a great foundation for a career in public finance.
---
FIA
Foundations in Accountancy (FIA) is a suite of accountancy awards from the ACCA for those wanting to start a career in accounting and finance.
---
For full course information visit kaplan.co.uk or contact us at hays@kaplan.co.uk
Content_multi_find_out_more_RHModule
Find out more
Search for jobs
Find your next career move.
---
Register a job
Search through hundreds of candidates to find your next employee or employees.
---
Employer Services
Explore our key services which will help provide you with an effective talent strategy.
---
Resources
From whitepapers to reports, get the resources you need for all of your recruitment or job searching needs.
---
View our blogs
Take a look at our blog section for further insight and advice.