content_multi_blacklivesmatter_DAC_MainRegion
DIVERSITY & INCLUSION SNAPSHOT


---
The Covid-19 pandemic may have caused some organisations to unintentionally stall their equality, diversity and inclusion agendas, as they pivoted all their focus to mitigating the impact of the coronavirus.
However, it has caused many to question their values and beliefs, and reflect on how they can make a more positive difference in the world, including in their professional lives. This has been compounded further by the emergence of the Black Lives Matter movement, that saw its origin in the United States but quickly turned global, placing the world's spotlight – once again – on the tragic impact of continued inequality and bias in our societies.
In our recent survey taken by over 13,000 professionals in the UK, we asked how attitudes towards equality, diversity and inclusion have changed in recent months, and whether organisations are acting on these evolving sentiments.
Download our snapshot to discover:
How employers and employees perceive the focus on diversity and inclusion within organisations to have changed in recent months
How the focus on diversity and inclusion within organisations has been affected by the Black Lives Matter movement
The importance that employees attribute to organisational diversity and inclusion polices
Content_multi_DIReport_RHModule
Diversity in the workplace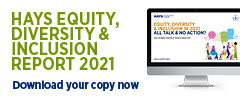 In this year's report, we investigate if conversations about ED&I are leading to meaningful change and making a real difference to people's working lives.
content_multi_Hays_Thrive_RHmodule
Hays Thrive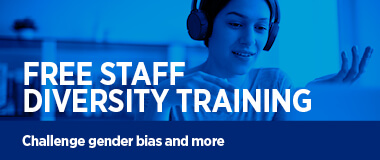 Sign up to Hays Thrive so your team can benefit from our Diversity & Inclusion package – as well as dozens more free training courses.

Sign up now
Content_multi_find_out_more_RHModule
Find out more
Search for jobs
Find your next career move.
---
Register a job
Search through hundreds of candidates to find your next employee or employees.
---
Employer Services
Explore our key services which will help provide you with an effective talent strategy.
---
Resources
From whitepapers to reports, get the resources you need for all of your recruitment or job searching needs.
---
View our blogs
Take a look at our blog section for further insight and advice.