Content_multi_IR35_Oct2020_MainRegion
Understand the reforms to the IR35 legislation


---
What is IR35?
Reforms to IR35 legislation, which came into force in April 2017 for the public sector, passed the responsibility for determining the tax status of all personal service company (PSC) interim workers to the hiring organisation, including potential liability for tax and national insurance contributions.
In the Autumn 2018 budget, it was confirmed that the legislation would be extended to the private sector in April 2020, for large and medium-sized organisations. However, due to the coronavirus pandemic, this was delayed until April 2021.
What should you do now?
Those who engage with contractors who are affected by the change in legislation should take steps to ensure they can continue to engage with the talent they require now the reforms are in place.
The experience Hays has gained working with the both the public sector and the private sector to mitigate potential risk from IR35 makes us the ideal partner to support and guide your recruitment strategies. Get in contact with your Hays consultant to find out more.
---
IR35 factsheet for engagers
The reforms to IR35 legislation could leave you open to extra expense and fines if you fail to comply. Our factsheet provides essential information about how you can approach the changes and continue to secure top contractors.
---
IR35 factsheet for contractors
If you're a contractor affected by the reforms to IR35 legislation, our factsheet includes further details about what the changes mean for you, and how you can continue to secure the best opportunities.
---
Managing contractors – a quick guide
It can be complex to manage limited company contractors, so we have partnered with leading firm Travers Smith LLP to create this quick guide on what you should and shouldn't do when managing contractors.
---
Webinars to help you navigate the reforms
Prior to the reforms, we hosted a number of webinars to help engagers and contractors to understand the changes, how they could be impacted, and how best to navigate the updated legislation. Take a look at the recordings for further information.
Content_multi_informed_RHModule
Informed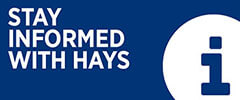 The rate of change in the business world is accelerating, and having the right talent at the right time is increasingly important. Stay informed with Hays, and get the latest updates and development in the world of work.