content_multi_starting_a_job_remotely
STARTING A NEW JOB REMOTELY


---
Our guide to starting a new job remotely will help you to get in the best possible position to begin your new role from home.
As many of us adapt to remote working, starting a new job from home can be a daunting prospect, but taking some steps to prepare will ensure you hit the ground running on your first day, wherever you are based.
Download to find out:
Why you should still start a new job in today's climate
How to make the most of your notice period and prepare for your new job
Tips on how to set up your remote workspace
Advice on how to maintain contact with your new colleagues
What you need to consider on the first day of your new job
content_multi_transition_toolkit_RHmodule
Helping you manage the new era of work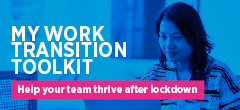 As the way we work changes at a rapid pace, our new online training toolkit will help your workforce become more agile and adaptive.

Content_multi_find_out_more_RHModule
Find out more
Search for jobs
Find your next career move.
---
Register a job
Search through hundreds of candidates to find your next employee or employees.
---
Employer Services
Explore our key services which will help provide you with an effective talent strategy.
---
Resources
From whitepapers to reports, get the resources you need for all of your recruitment or job searching needs.
---
Join us at our events
We are dedicated to creating opportunities for professionals and industry leaders to share their insights.
---
View our blogs
Take a look at our blog section for further insight and advice.