content_multi_wellbeingmattersreport_DAC_MainRegion
WELLBEING MATTERS REPORT


The wellbeing of staff needs to be a top priority for all organisations. As we go through this unprecedented crisis, everyone will be having a different experience, so it's important to have oversight of the challenges your workers may be facing and overcome them together.
---
Our latest What Workers Want report, Wellbeing Matters, has been created from a survey of over 16,000 professionals from across the UK between April and May 2020, examining the impact of the Covid-19 pandemic on wellbeing, and how employers are taking steps to support their workforce.
The report will help you understand the true impact of the lockdown on wellbeing and will give you the advice and insight you need to make real changes to benefit your team.
Download our report today to discover:
How workers have been impacted by lockdown, and how they believe their wellbeing has fared
Which industries and professions are doing most for their workers, and which are failing to offer adequate support
What changes you can make to offer additional wellbeing support to your teams
What professionals expect the future to hold, and what lessons they believe can be learned
Recommendations for both employees and employees to help manage and improve wellbeing now, and in the uncertain future
content_multi_lockdownmentalhealth_blog_RHmodule
Lifting the lockdown on mental health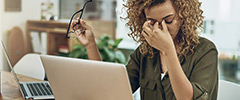 Looking after our mental health has never been so important. Read our advice on creating a mentally healthy workplace – wherever you are working from.

content_multi_transition_toolkit_RHmodule
Helping you manage the new era of work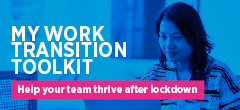 As the way we work changes at a rapid pace, our new online training toolkit will help your workforce become more agile and adaptive.

Content_multi_find_out_more_RHModule
Find out more
Search for jobs
Find your next career move.
---
Register a job
Search through hundreds of candidates to find your next employee or employees.
---
Employer Services
Explore our key services which will help provide you with an effective talent strategy.
---
Resources
From whitepapers to reports, get the resources you need for all of your recruitment or job searching needs.
---
Join us at our events
We are dedicated to creating opportunities for professionals and industry leaders to share their insights.
---
View our blogs
Take a look at our blog section for further insight and advice.