Content_How_to_adopt_and_adapt_to_changes_fast_Main_Region
YOUR GUIDE TO EMBRACING CHANGE


---
The Covid-19 pandemic has served to highlight a key skillset which we all need to continually develop and nurture in order to operate successfully in our role.
Change agility, the ability to quickly and successfully embrace and adopt change, will undoubtedly be a key skillset that all employers look for as a core capability in the workforce of the future.
Download to find out:
How to challenge your interpretation of a change and channel it in a positive direction
Ways to break down the change and establish how it will affect your day-to-day
How to reframe the challenge that change presents as an opportunity
Methods for adopting the change into your everyday routine

content_multi_Hays_Thrive_Wellbeing_lockdown_RHmodule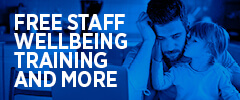 This lockdown, give your staff the support they need, sign up for free staff training from Hays Thrive.
Sign up now
Content_multi_find_out_more_RHModule
Find out more
Search for jobs
Find your next career move.
---
Register a job
Search through hundreds of candidates to find your next employee or employees.
---
Employer Services
Explore our key services which will help provide you with an effective talent strategy.
---
Resources
From whitepapers to reports, get the resources you need for all of your recruitment or job searching needs.
---
Join us at our events
We are dedicated to creating opportunities for professionals and industry leaders to share their insights.
---
View our blogs
Take a look at our blog section for further insight and advice.