How to answer difficult interview questions
| Robby Vanuxem - Managing Director of Hays Belgium | Article | Job searching Interview advice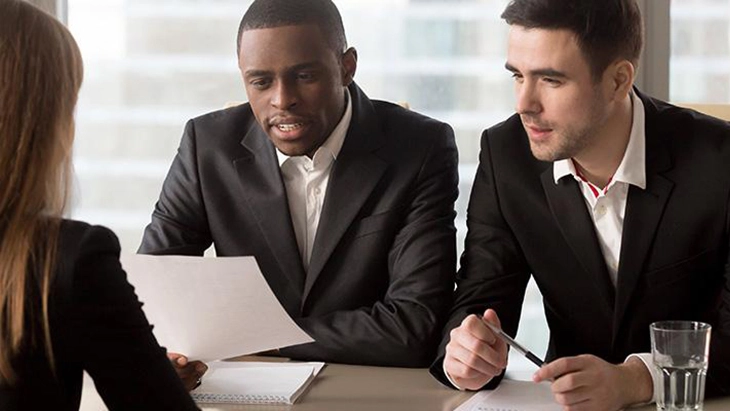 Prepare yourself for the most difficult and common interview questions, whatever the industry.
So, you've been invited to interview for your dream job, and you're starting your all-important preparation. As part of that preparation, you've thought about the most likely things you could be asked and you have diligently prepared your answers. But, are you prepared to answer more challenging interview questions?
We find that many candidates are caught off guard because they don't know how to answer difficult interview questions. So, what are these tricky interview questions? Why are you being asked such challenging questions? And how should you answer them if you hope to get the job?
In this blog, we'll look at how to answer difficult interview questions with techniques such as:
How to answer succinctly
How to react to challenging interview questions without getting defensive
How to use the STAR method to get your point across
Things to look out for when answering common interview questions
Remember, the job interviewer is not trying to catch you out. They simply want to hear the best from you and how you can apply your skills to take their company forward.
This means they may ask some challenging questions, such as how you reacted to difficult situations. They may also ask some vague questions, giving you the chance to present your best self concisely. Keep these interview question techniques in mind when answering these common questions.
1. The opening question - "Tell me about yourself"
This may seem an easy question as it's simply asking you to talk about yourself. However, people can panic at its vague nature and tend not to answer effectively.
What the employer really wants is three things:
A brief insight into how you have achieved what you have so far
How you're the best for their role and company
Any interesting aspects of yourself that are related to the industry
Try answering this difficult interview question with a brief storytelling format – including a beginning, middle and end:

Open your answer with what first drew you to your profession
"Upon completing a Marketing Management module as part of my Business Degree, I realised this was a field in which I excelled and felt passionate about."
Tie this into a headline overview of your (relevant) career history up until now
"Since then, I have applied this knowledge to a number of Marketing roles, whilst developing new skills, progressing my career, and reaching my current position of Marketing Manager at X company."
Now, end your story with why you are here
"I am now looking to expand upon my skills within a role that has a global remit and plenty of scope for continued progression, hence why I applied."
With this structure, you can strike the balance between storytelling, and getting straight to why you think you're the right person for the job.
2. The highlight reel – "Tell me about a time you implemented an outstanding idea"
Don't underestimate this question! Employers are becoming increasingly aware of the fact that they need "ideas people" who can pre-empt digital, political and industry changes.
This also gives you the chance to showcase a typical "perfect day" in your profession. For example, if you were in education, you might discuss what lesson you would be teaching, the year group and your strategy. You could describe the resources you used and how the students utilised these.
Use the STAR method to tell your story concisely:
S – set the scene
T – tasks and your involvement
A – actions and how you implemented them
R – results with figures or feedback.
3. The knowledge test – "How do you keep up to date with the latest challenges in the industry?"
This may seem a surprising interview question but was actually submitted by a teacher after they were asked it in their own interview. Many industries are constantly evolving, so make a conscious effort to read up on a few news articles to discuss before your interview.
Likewise, while the interviewer wants to know that you have a keen interest in the field, they also want to know that you are always eager to learn.
Can you think of any training or mentoring programmes you have taken? What about any interesting educational material? Some of the best answers will mention any expert-led content that you have recently read and enjoyed. You could also mention podcasts, press releases and books.
4. The test of your mettle – "Can you tell me about a time you failed?"
The word "fail" might make you feel defensive. But remember, the worst thing you can say is that you have never failed. The interviewer isn't trying to catch you out. They know even the most diligent and promising candidates would have experienced setbacks. They want to know how you overcame them and what you learnt.
Your failure doesn't have to be massively detrimental. You could mention a time that you simply missed a deadline or didn't meet one of your Key Performance Indicators. When you answer this question, paint a clear picture of how you learnt from the experience, what you would do in hindsight and the strengths gained from it. For example:
"When I was a Marketing Manager at X company, I was tasked with coordinating the launch of our first company magazine. The launch date had been given but I underestimated how long it would take to gather editorial content from the magazine's contributors. The publication launched two days behind schedule. Whilst the magazine was well received, our clients did expect to receive their copy earlier than they did. From this, I learnt to give myself plenty of time when working with external contributors and to give plenty of leeway when deciding on launch dates."
5. The ideal job – "What would make the ideal job for you?"
This isn't a trick to check you have read the job description properly. The interviewer will have asked you this question to make sure you'd be happy in the role – and that you'd stay.
Think about the core responsibilities in your ideal role, and how you would apply your key skills to these. Now think about how this can tie into the role that you are interviewing for, and highlight what you are looking for, what you can offer, and why you are a good match for them. For example, in an educational role, you could discuss the strategies you have used and learning objectives you have previously put in place to account for and track progress, recalling examples from your past classrooms.
6. The personality test – "How would your friends describe you?"
This popular interview question helps the interviewer determine if your personality suits the role, and if your personality suits the team/company.
Let's start with how well your personality traits suit your role. What kind of personal attributes would be useful here? For instance, you might be interviewing for a sales role, and your friends would describe you as friendly and a good listener. It is in your interest to be honest here. Don't just think about traits that relate to the job description; think about how your friends would describe you. This will show the interviewer how well you will get on with your potential colleagues.
7. The practical – "What type of salary are you looking for?"
With this interview question, make sure you know the industry standard for your role. Your interviewer will know this, so check out our salary calculator to benchmark your salary if you're not sure.
This will help you answer with more conviction, and will put you in a much better position to negotiate. If you're still in the early stages and don't want to negotiate just yet, say that you want to better understand the company and the role before commenting on salary.
8. The spotlight – "Do you have any questions for me?"
This is your chance to end the interview on a high by showing a genuine interest in the role. Some candidates make the mistake of having set questions in their minds, and not listening out for the answers during the interview. Don't make the interviewer think you weren't listening!
Pay attention and keep some questions in mind if they've not been answered already. Have an open mind for any new questions that may crop up during the interview.
If you can prepare for the difficult interview questions like the above then ultimately you'll feel more prepared and confident going into your interview at a school and will then perform your best.
To find out more, or to discuss your recruitment needs in this field, please contact your local consultant.
About this author
Robby Vanuxem has over 25 years of industry experience, including over 20 in Hays. He started in 2000 in the world of HR and worked his way up the ranks – from consultant over Business Director to Regional Director – until he reached the Managing Director position in 2015.