Content_multi_social_media_MainRegion
Hays Social Media

In addition to our nationwide network of offices, you can keep in touch with Hays UK through our Twitter, Facebook, LinkedIn and YouTube accounts. We share the latest news from the world of work, insights into the different sectors we operate in, recruiting events and job opportunities.
Content_multi_social_media_1_MainRegion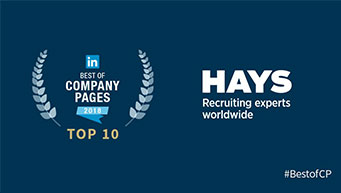 The best company page on LinkedIn
For the second year in a row, LinkedIn announced that we have the best company page on their network. The Hays LinkedIn company page is a great way to find out what we're up to across the globe. We share our key publications here, link to our latest research across the world, and help you to find out more about how we can help you.
Content_multi_social_media_PromoBox
Follow Hays on Twitter
Our Hays News account carries the latest news from Hays UK, in addition to keeping you posted on what events we're attending and stories in the news we're interested in.


Connect with us on Facebook
Our Facebook page for Hays UK is where we keep you up to date with the events and summits we attend, news stories that interest us or we're involved in and our latest publications including salary guides.
Hays on YouTube
You can find out more about the global nature of our business, the expertise we share and how we can help you or your organisation on our YouTube channel.



View our YouTube channel