Content_multi_IR35_MainRegion
Understand the reforms to the IR35 legislation


What is IR35?
Reforms to IR35 legislation, which came into force in April 2017 for the public sector, passed the responsibility for determining the tax status of all personal service company (PSC) interim workers to the hiring organisation, including potential liability for tax and national insurance contributions. In the Autumn 2018 budget, it was confirmed that the legislation would be extended to the private sector in April 2020, for large and medium-sized organisations.
The experience we have gained working with the public sector to mitigate potential risk from IR35 makes Hays the ideal partner to support and guide your recruitment strategies.
---
IR35 Countdown Calendar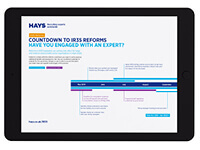 Reforms to IR35 legislation are coming into effect for large and medium sized private sector organisations in April 2020. Failure to comply with the reforms could leave you open to extra expense, additional burden and exposure to risk.
We've prepared a countdown calendar, so you can see what you should be considering and when to prepare for the upcoming changes to IR35 legislation.
Download today to start preparing your organisation for the future.
---
Countdown to the IR35 reforms
---
OTHER IR35 RESOURCES
---
Download our whitepaper
Reform to IR35 legislation has heavily impacted the public sector in 2017. With similar changes being extended to the private sector in 2020, private sector, download this whitepaper to find out what lessons you can learn and help you prepare.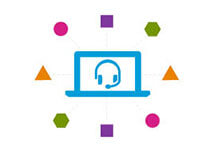 How to navigate IR35: Webinar series
Watch our webinar series for all you need to know on IR35 tax legislation. These sessions will help those organisations hiring contractors to understand what the IR35 reforms are likely to be, who is responsible for what within an organisation, how to assess risk and how to retain access to skilled contractors.

Watch now
IR35 Solutions
Our experts have implemented solutions for both public and private sector organisations. If you would like to understand more on how to mitigate IR35 risks for your business, contact our team at IR35@hays.com.
The results of our survey of over 31,500 respondents which reveal whether organisations are prepared and what risks they are faced with
How public sector organisations tackled the reforms when they were first introduced in 2017 and what other companies are doing that might help you to come up with a solution
What the reforms are and how you might be affected from employment law specialists, Travers Smith LLP.

Procurement: Preparing private sector procurement for IR35
A&F: Are accountancy and finance employers prepared for IR35 changes?
IT: Bursting the IT contractor bubble: is your organisation legislation ready?
Public sector: The public sector's continued fight for talent
Autumn Budget: IR35 and the Autumn Budget: What now for your organisation?
Content_multi_IR35_contact_us_RHModule
Content_multi_informed_RHModule
Informed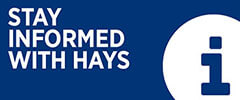 The rate of change in the business world is accelerating, and having the right talent at the right time is increasingly important. Stay informed with Hays, and get the latest updates and development in the world of work.