The Great Resignation: The top seven reasons why people quit their jobs
12 min read | Alistair Cox | Article | People & Culture Retention Workforce Management Industry insights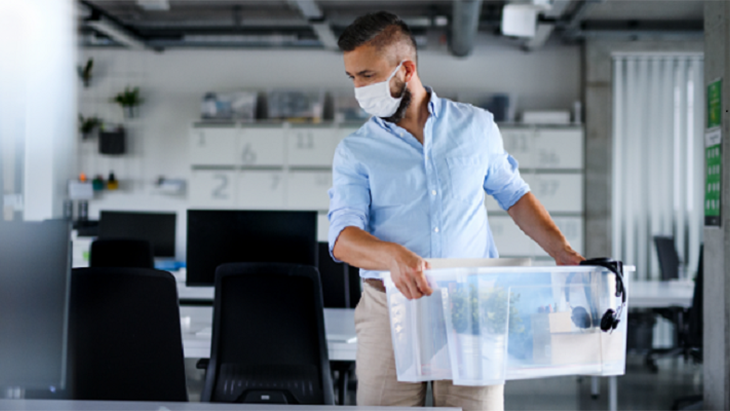 Learn the top seven reasons why employees might quit their jobs. From money to appreciation and ambition, join Alistair Cox, CEO of Hays, as he outlines the reasons why people move on.
Reasons for quitting a job: Key insights
According to Microsoft's 2021 Work Trend Index, 41 per cent of people want to leave their jobs within the next year. That's a very high number indeed.
It's been dubbed the "The Great Resignation" by an organisational psychologist, Dr Anthony Klotz. And for good reason. As with the other 'Greats' we've witnessed across history, take "The Great Recession", or "The Great Depression", for instance, the impact could be monumental.
Just think about the implications for a minute. If you're a business leader, almost half of your entire workforce may, right now, be thinking about leaving. Where does that put your growth plans? Your customers? Your bottom line?
Encouraging people to stay is not always easy. But it starts with understanding your workers' psychology, situation, and ambitions – why might they want to go elsewhere?
Reasons for quitting a job: Background
Before we dive into the reasons to leave a job, it's important to note that certain demographics of society appear to be more open to the idea of quitting than others.
Blue collar workers: Sandra Sucher, Harvard Business School professor and author of the forthcoming "The Power of Trust", noted that low-wage workers are particularly motivated to change jobs with even marginally better offers. As explained in this BBC article, "Many retail and service workers are departing in favour of entry-level positions elsewhere – in warehouses or offices, for instance – that actually pay less, but offer more benefits, upward mobility and compassion. With employers across the board looking for new hires, many have found it's easy to find another job and make the transition."
Gen Z: Recent Microsoft research found that 54 per cent of Generation Z workers could be considering handing in their resignation. The report pointed to the fact that "…Gen Z reported difficulties feeling engaged and excited about work, getting a word in during meetings, and bringing new ideas to the table."
Mid-career workers and managers: Research from people analytics firm, Visier, found that the cohort of employees aged between 30-45 years old saw large increases in resignations between August 2019 and August 2020. Their leaving signalled that those who are more established in their careers are more likely to consider to switching jobs. Plus, as of December 2020, resignations among managers were 12 per cent higher than the previous year.
So, what's behind this predicted mass exodus of talent? What's triggering people to want to leave their jobs in such vast numbers? Let's look at the top seven reasons for quitting a job.
1. People feel more confident searching for a new job
According to Klotz, people who had planned on leaving their jobs pre-pandemic are now resuming their job searches with a new-found gusto. As a result, the backlog of resignations is now beginning to clear.
This sentiment is echoed by Neil Carberry, chief executive at the UK-based Recruitment and Employment Confederation (REC), who said, "The jobs market is moving at the fastest pace we have ever seen, but it is still an unpredictable time."
In fact, our own UK & Ireland Salary Guide revealed that 63 per cent of employers are currently recruiting. There are more opportunities out there than there have been in a long time, so many feel now is the right time to finally make their move. But what else is at play?
2. Workers had the time and space to prioritise
If people weren't already considering looking for a new role before the pandemic hit, then chances are that they are now. According to our recent LinkedIn poll of over 25k people, 74 per cent said that the pandemic has made them consider their job or career choices.
For many, the pandemic afforded the time and space to reflect on their working lives. They may never have had the luxury of doing so before. As explained in LinkedIn's 'Hello Monday' podcast, lots of people have simply realised that life is too short to do a job they don't love, for a company they don't think cares about them.
3. Many prefer remote working
After years of working from their own homes, some workers just don't want to go back to the office. Many have already relocated, or are planning to in order to be closer to family or to achieve a different lifestyle. In this case, the prospect of having to return to the office has been a big trigger to leave for many people.
This is reflected by Microsoft's research, which found that 46 per cent of people say they're likely to move because they can work remotely now.
But it's not for everyone. Lots of people feel a sense of connection with co-workers just from regular trips to the office.
In my mind, both our homes and our offices have a part to play in enabling us to lead fulfilling working lives. But I appreciate that not everyone feels that way.
4. People are burned out
We've seen the headlines – burnout right now is real and it's rife. According to Microsoft's survey:
37 per cent of the global workforce say their companies are asking too much of them
One in five think their employer doesn't care about their work-life balance
54 per cent feel overworked and 39 per cent feel exhausted.
Microsoft argues that these frightening stats "…prove the intensity of the workday and that what is expected of workers has increased significantly." I'd have to agree. It's no wonder so many people are reconsidering their job options.
Technology has helped businesses keep in touch and stay afloat. But it has also blurred the lines between work and private life, and, for some, the level of burnout and exhaustion is unsustainable.
5. People want career growth
Everyone wants to feel that they are moving forward. The need to feel a sense of progress is an innately human one, but it's a feeling some don't feel.
During busy times, upskilling can disappear off the radar. A secondary concern that can wait until tomorrow, the next month or even the next year. But many feel the need to grow again now.
High-performing workers, according to research from Axios, are the most concerned about their career advancement in their current job. Around 75 per cent of people saying the pandemic made them question their skillsets.
Unfortunately, many feel that to reach the next level and achieve their goals, they have no choice but to move jobs. This is a wholly avoidable challenge and one that employers should be tackling head on.
It's well known that career progression is a crucial factor in employee engagement in an organisation. Without it, people who want to get on will go elsewhere and create value for someone else.
6. Workers are motivated by financial reasons
This one is fairly obvious, but worth mentioning. Thanks to sites like Glassdoor and salary.com, people now have more visibility than ever before into their salaries. Workers can see exactly what salary their own unique skillset and experience can command.
And, when employees do decide to move, particularly those working in tech and life sciences, they often realise a 15-20 per cent salary increase. These numbers can make a big difference to someone's finances – and I'm sure it's a huge reason for quitting a job.
7. Some people don't actually like their jobs
At a basic level, many sometimes realise they don't actually enjoy the work they do. Especially in a hybrid work era, despite the constant Teams calls and chats, many feel disconnected from their teams, their managers and their organisations.
As explained by Cassie Whitlock, head of human resources for BambooHR, "Many have lost a sense of connection to the workplace," she says. "Even if they're getting time with their manager, we discovered they're having fewer interactions, and the quality of those interactions is diminished. They're not having a feeling of genuine connection. They feel less seen, recognized, and appreciated."
As a result, there's been a huge rise in people choosing to go it alone and set up their own solo ventures. According to the National Bureau of Economic Statistics, the pace of new business applications since mid-2020 has been the highest on record. This is echoed by Microsoft's research which found that 46 per cent of people are planning to make a major career pivot or transition.
Reasons for quitting a job: Next steps for your business
Now you know the most common reasons for quitting a job, you can shape your business to encourage workers to stay. Make your company welcoming and supportive, encourage staff to grow and advance, and regularly check on their well-being. If you don't, another employer surely will.
To discuss your recruitment needs, contact your local Hays office today.
About this author
Alistair has been the CEO of Hays, plc since Sept. 2007. An aeronautical engineer by training (University of Salford, UK, 1982), Alistair commenced his career at British Aerospace in the military aircraft division. From 1983-1988, he worked Schlumberger filling a number of field and research roles in the Oil & Gas Industry in both Europe and North America.
In 2002, he returned to the UK as CEO of Xansa, a UK based IT services and back-office processing organisation. During his 5 year tenure at Xansa, he re-focused the organisation to create a UK leading provider of back-office services across both the Public and Private sector and built one of the strongest offshore operations in the sector with over 6,000 people based in India.