Content_PAEA_successful_pa_MainRegion
What makes a successful PA?

A view from both perspectives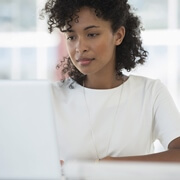 The PA role has changed almost beyond recognition since the recession and this vital piece of research was undertaken to lift the lid on how the profession is evolving. For the first time we asked both the assistants and their managers to explain how successful PAs are helping to enhance business performance.
Overview
PAs today are becoming more deeply rooted into organisational strategy. Many are viewed as key business decision makers and trusted advisors, with 62% of managers now seeing their PA's contribution to their organisation as similar to that of a manager or director.
Explore the findings from the nationwide survey of over 3,000 EAs, PAs and CEOs. There has never been a more important time to present a true picture of the modern PA and where they fit in terms of skills, what is important to their career development and the growth of the UK economy.

Here are some of our key findings:
87% of employers state they could not do their job as effectively without their PA


69% would choose to be a PA again if they started their career


67% of PA respondents supported more than one person


62% of employers see their PAs' seniority as equivalent to a manager or director