content_healthcare_NOTY10_charlie_sherburn
Charlie Sherburn

Sister, Royal Manchester Children's Hospital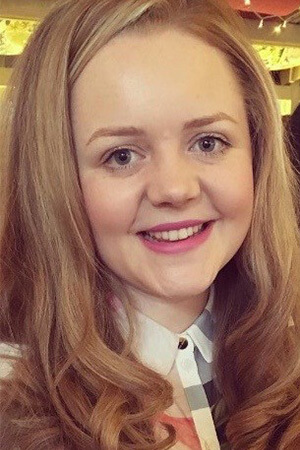 "Charlie is a true professional, she's supported me just as much as my son. There have been times where I have felt so anxious and unsure of the future and she has sat down with us and made us feel a million times better! She has a fantastic sense of humour and so much empathy for every single person on the ward. Nothing has ever been too much trouble for her and she always has a smile on her face that brightens everyone's day."
Charlie was nominated for the Nurse of the Year Award by a parent of one of her patients, G*: (*real name not used for privacy reasons)
G was diagnosed with Ewing sarcoma on 3rd May 2018 at just 8 years old. Things moved rapidly as G needed to start chemotherapy straight away due to the aggressiveness of his cancer. When G walked onto the oncology ward at the Royal Manchester Children's Hospital he was a very scared boy, his life had been turned upside down. However, the atmosphere on the ward from the nurses instantly eased all of us parents who were having to endure seeing their children going through the same gruelling treatment.
It was during this time that G met Charlie and from that moment on he never looked back. Charlie gave him the strength, courage and support to fight through all of the treatment even to the point where G looked forward to going back into hospital just to see her. Every time he went into hospital Charlie made sure that she provided personalised care for G.
Not only does G love Charlie, she is very popular with all of the other patients on the ward. Due to her dedication to her job, Charlie was recently promoted. This promotion didn't faze her at all - she had taken on more workload but still continued to spend as much time with G and all the other children.
During G's first six months of treatment, he received 28 straight hours of chemotherapy over three days every three weeks making him very poorly. The treatment caused horrific ulcers, he was violently sick for hours on end, lethargic and couldn't walk.
It was during these bad months that Charlie proved herself to be nurse of the year, staying by his bedside, talking to him, cuddling him, and making him laugh. To see his face when Charlie approached him made my day, he absolutely adores her! Sometimes he would refuse his treatment, but Charlie was the one person who he trusted and she gently supported him into co-operating every single time with her calm manner and soft voice.
Every single parent I have spoken to on the ward has had nothing but praise for Charlie and G and his friends on the ward fight over who loves her the most! G has now finished his treatment, but I know that if anything were to ever happen again then we have the comfort of knowing that Charlie will be there waiting for us.
How did you feel when you found out you had been nominated?
Surprised. I didn't expect it. I am just doing my job. It was nice to realise I do make a difference, more than I imagined. Which charity would you be supporting if you won the Nurse of the Year Award?
Supershoes, a charity that makes such a difference making bespoke shoes for children. Every kid likes new shoes - it's great to see the children strutting around in their personalised shoes and gives them something to look forward to and a bit of normality. It makes them smile and be proud, and its lovely for the child and family to keep them. Each pair of shoes is designed and hand-painted specifically for a particular child or young person with a cancer diagnosis, capturing that child and all their favourite things. They are a reminder to that child of who they are beyond their illness, challenges and treatment.
They're a small charity. I've been aware of them since my early training. I would like the donation to go towards paying for shoes for the children in my hospital.
What is the most rewarding part of being a nurse and what do you think makes an outstanding healthcare professional?
It's a privilege to be with patients and families at such a difficult time, bringing a smile and being happy. It's helpful to be a good listener, it makes such a difference. The role needs patience and good communication skills, both verbal and non-verbal. Laughter and empathy are also so important and being able to pick up on when a family is in need.
Seeing the resilience of the children and helping them to achieve improved outcomes is one of the most rewarding parts of my job. It's hard with every patient. You get to know them and forge bonds, and are with them through their journey, and their check-ups.
At the end of a treatment we ring a bell and read a poem, and G chose me to read the poem when it was his turn, which was something really special.
What inspired you to become a nurse?
I always wanted to be a nurse from a young age and have always had a caring side. When I took my Duke of Edinburgh bronze, silver and gold awards, I did voluntary work at a local elderly home where I learnt to listen. I was torn between elderly care and children's care, but ultimately chose children.
Tell us a little more about your NHS career and experience.
I undertook three years of graduate training at the London South Bank University and Great Ormond Street Hospital (GOSH). My placements included neuro surgical, cardiac intensive care and bone marrow transplant, but my preferred area was haematology oncology. I then spent one year at Chelsea & Westminster Hospital in the NICU and day surgery, and then returned to GOSH for three more years in haematology oncology.
I relocated to Wigan and joined the Royal Manchester Children's Hospital in haematology oncology paediatrics, before being promoted to sister last year.
What does the NHS mean to you?
We owe a lot to the NHS and would be lost without it. I feel very lucky to be part of it. When I see what it provides to children and their families I am lost for words. For example we take all of the proton therapy patients from across England, with the treatment done at the Christie, where the children attend daily. We work alongside each other.
Who have been your role models in the nursing profession throughout your career?
I have just followed examples of colleagues and their good practice as well as developed my own ways to help patients and their families.
What was the most valuable piece of advice you have received about nursing?
I've received a lot of advice along the way, but my own personal motto is "Keep calm and sparkle!"
What is the most challenging part of being a nurse?
There are boundaries of course, and to be professional you have to separate yourself on a personal level which is not always easy. It's difficult and you can start to miss patients when they've finished treatment. My experience helps me to separate it in a professional way and provide the right balance. You never switch off, and I never forget the children who have passed away.
As a sister managing the non-nursing side, the staffing and administration can be challenging, but to be honest I love the new responsibility.
What do you think has been the impact of your work on others?
I try to be a good patient and family advocate, helping to verbalise what is affecting people, and articulating their concerns. I am always approachable and friendly and I try to just be me – smiley, happy and positive. Now that I'm a Sister I am more aware of the example I set to my colleagues including the most junior. I can still remember my first day nerves!
Content_healthcare_hays_healthcare_RHModule
Hays Healthcare
Our team of Healthcare specialist consultants work with hundreds of organisations, trusts and healthcare providers. So whether you're seeking a temporary, interim or a full time job, we have the scale and expertise to help get a career in the Healthcare sector.