content_Healthcare_NOTY19_Anna_Gee_MainRegion
Anna Gee

Nurse & clinical advisor, CARE UK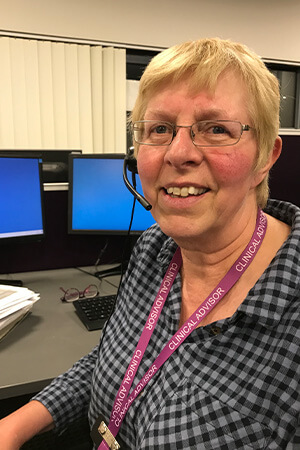 "Anna has been a colleague and friend for a number of years and I have always known her to be willing to help anyone - always putting other people first.
I would like to nominate Anna for having the courage and determination to go above and beyond what most people would have done, especially due to the circumstances."
Anna's colleague outlines why she has nominated Anna for the Nurse of the Year Award 2019:
Anna was returning from Cyprus on a flight to East Midlands Airport. Half an hour into the journey a message for medical assistance came over the loudspeaker. At the rear of the plane she was presented with a male passenger being given oxygen. He was vomiting and suffering from abdominal pain, and informed Anna he was an insulin dependent diabetic and had a stomach infection but had not yet seen a doctor and his insulin wasn't working.
The patient was barely conscious, his blood sugar was at a dangerous level and he was going into a diabetic coma. He needed to be admitted to hospital urgently and would not last the four hour flight to East Midlands airport. The insulin drip on board was being administered but was running out, and the oxygen supply was limited. Anna's training kicked in and she kept the patient stable in a challenging environment with limited resources.
The stewardess relayed the urgency of the situation to the pilot and the plane was diverted to Brindisi Airport. They landed 20 minutes later in Italy where an ambulance was waiting.
By then the oxygen supply had run out.
Anna accompanied her patient to the ambulance and completed a safe handover.
How did you feel when you found out you had been nominated?
It was lovely to hear I had been nominated and received a regional award.
Which charity would you be supporting if you won the Nurse of the Year Award?
I'd be lending my support to the Compton Care Hospice in Wolverhampton, which provides care to adults suffering with cancer and other life-threatening illnesses. They work with patients and their families in the community to provide palliative care, enabling those with complex or incurable conditions to take charge of their life on their terms.
Tell us a little more about your NHS career and experience.
I began my training in 1973 at the School of Nursing at Queen Elizabeth Hospital Birmingham, progressing to staff nurse at The General Hospital, Birmingham.
I trained and worked as a midwife at Wolverhampton New Cross for 3 years and then took a career break to have twins. When I returned to work I worked as a district midwife and in general practice.
I then worked as a nurse practitioner and an occupational health nurse for AVIVA, and in recent years I have been working as a 111 nurse advisor at Care UK which I enjoy. It is highly pressured, like most nursing roles.
What does the NHS mean to you?
It's a unique and amazing organisation providing care that is totally free at all points of contact. I am very proud of it. To keep pace with the world it continues to evolve through advances in technology and better medicines, which means fewer invasive procedures and improved outcomes.
What inspired you to become a nurse?
I moved to the UK from my native Holland over 30 years ago and wanted to work in the care sector. I wanted to have a career with skills that would be easily transferable. Once I started I loved it, and it became a vocation.
Who have been your role models in the nursing profession throughout your career?
My personal tutor in training whilst at the School of Nursing was an 'old school' nurse who would say "whatever you do, keep in mind that you could be talking to your family, and treat every person as you would want to be treated yourself".
My mentor and colleague when I started in an Occupational Health role was particularly good at teaching new skills and putting people at ease.
What is the most valuable piece of advice you have received about nursing?
The advice from my tutor, and a general lesson of always being honest with patients and only promising what you know you can deliver.
What is the most challenging part of being a nurse?
Meeting patients' expectations can be very challenging these days. The information that people pick up from the internet and the media doesn't always help a situation that as a nurse you are trying to deal with using a combination of training and experience.
Keeping up to date with the latest advances in medicine and taking on board new ideas and advice from medical journals is also a challenge.
What do you think has been the impact of your work on others?
Empowering people by giving them knowledge and care. Of the many aspects of a nursing role I like to think kindness, empathy and understanding are qualities I bring to nursing.
Nurses do outstanding things every day – what is the most rewarding part of being a nurse?
Helping people. A simple 'thank you' is wonderful to receive.
Content_healthcare_hays_healthcare_RHModule
Hays Healthcare
Our team of Healthcare specialist consultants work with hundreds of organisations, trusts and healthcare providers. So whether you're seeking a temporary, interim or a full time job, we have the scale and expertise to help get a career in the Healthcare sector.