Content_edu_super_supply_teacher_MainRegion
Super Supply Teacher

Education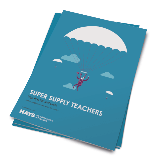 As the UK's leading education recruiter we are committed to sharing meaningful insight and information with the education community.
Click here to get your Super Supply Teacher guide
We are delighted to have teamed up with Gary Toward and Chris Henley the authors of The Art of Being a Brilliant Teacher and The Art of Being a Brilliant NQT in creating the 'Super Supply Teacher' guide.
We want to work with you to develop your skills in the classroom so you are ready for any task that the supply teaching world throws your way.
"This booklet aims to develop techniques and strategies that will help to make
you become a better supply teacher"
Gary Toward & Chris Henley
Click here to download your Super Supply Teacher guide
We hope you enjoy reading this guide and take away some points to excel in your career. If you have any top tips, we would love to hear them. Please share these on Twitter using the hashtag #HaysSuperSupply.