content_edu_hays_hub_thank_you_MainRegion
Thanks for enquiring about the Hays Hub

Your details have been sent to our onboarding team who will be in touch to get you started.
Whilst you wait, why not take a look at the resources below?
content_edu_hub_thank_you_promo2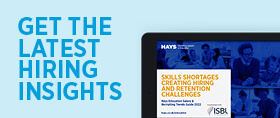 Education Salary Guide 2022
Download the Education Salary & Recruiting Trends Guide to discover employment, salary and benefits insights from over 2,500 professionals.





Train your staff your way
The only training portal education employers need to ensure their staff are supported and up to date with their CPD. Upload your training materials to our learning management system and assign it alongside our free wellbeing training, as well as safeguarding and compliance training packages.

Hays Inspire
Hays Inspire is an unlimited, free-of-charge resource for all schools that gives pupils key insights into the world of work from top employers. Consisting of a series of ready-made lesson plans to suit years 6, 9 and 10/11, Hays Inspire engages different industries to help young people link their education journeys with possible future careers.